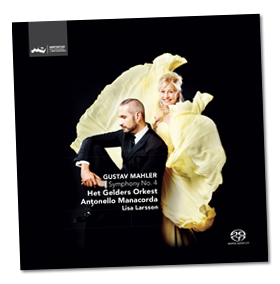 NEW ON CD
Lisa Larsson sings Mahler
Soprano solo from Symphony No. 4
Three Songs from:
"Des Knaben Wunderhorn"
ALSO AVAILABLE
Lisa Larsson sings Berlioz
La captive, Herminie
La mort de Cléopâtre
ALSO AVAILABLE
Lisa Larsson sings Haydn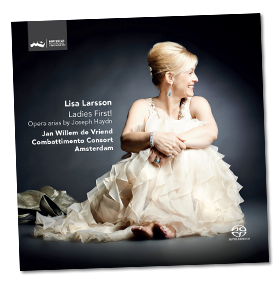 Ladies First!
Scena di Berenice, Arianna a Naxos
Arias from: L'anima del filosofo,
L'isola disabitata, L'infedeltà delusa,
La Metilde ritrovata

ROYAL MEDAL
During a ceremony at the Royal Palace in Stockholm on February 4th 2020, the Swedish King honoured Lisa Larsson with the Royal Medal "Litteris et Artibus" for "outstanding artistic achievements".
SEASON 19/20
In the season 19/20 Lisa Larsson is appearing in Sweden, Switzerland, Germany, Italy, Spain, Romania (Enescu Festival) and Poland (National Forum of Music). She is performing as a soloist with symphonic orchestras as well as chamberorchestras, this in works by Mahler (4th Symphony), Mendelssohn ("Infelice"), Beethoven ("Ah, perfido!"), Poulenc ("Les chemins d'amour"), Barber ("Knoxville - Summer of 1915"), Britten ("Les Illuminations"), Rolf Martinsson ("Ich denke Dein..", "Garden of Devotion", "To the Shadow of a Reality") and as to sacral music she will be heard in works by Haydn ("Die Schöpfung"), Beethoven ("Mass in C") and Martinsson ("Lukas Passion"). Lisa Larsson also continues putting her passion for chamber music in focus throughout this season! An Italian tour together with pianist Andrea Lucchesini offering its audiences works by Schubert and Schumann as well as a world premiere of a piece Fabio Vacchi is dedicating to her, giving concerts together with pianist Hans Pålsson in Sweden, here with the focus on Mozart, Martinsson and Schumann and she will also appear in a new collaboration together with the Boulanger Trio, this in a performance at the Bad Kissingen Festival giving hommage to Beethoven. At the end of the season Lisa Larsson will for the second time serve as a jury member at the International Bach Festival in Leipzig (arranged by the Bach Archive Leipzig), where she also is bringing to life her own prize, to be given for the best recit-interpretation.
MOZART - MAHLER - MARTINSSON
Mozart, Mahler and Martinsson have had their special meaning in the career of Lisa Larsson and she is very much looking forward to crossing paths with all three of them already beginning of this year. This first in the soprano-solo of Mahler's second symphony "Resurrection" together with Orchestre National de Lille under their chief-conductor Alexandre Bloch, followed the week thereafter in Finnland with Rolf Martinsson's "Garden of Devotion" (written for and dedicated dedicated to Lisa Larsson) combined with Mozart's "L'amero saro costante" together with St. Michel Strings under the baton of her Swedish colleague Katarina Andreasson, also taking on the violin-solo in the Mozart aria.
CHAMBERMUSIC
Lisa Larsson is looking forward to this time meeting the Malmö Live Konserthus audience in an intimate chamber-music program, this together with the String Quartet of the Malmö Symfoniorkester. Their program a.o presents Rolf Martinsson's "Till skuggan av en verklighet", dedicated to and premiered by Lisa Larsson in 2013, and Ottorino Respighi's "Il tramonto".
OTTORINO RESPIGHI "Il tramonto"
ROLF MARTINSSON "Till skuggan av en verklighet"
Malmö SymfoniOrkesters String quartet:
Marika Fältskog, violin
Malin Nyström, violin
Łukasz Lisowski, viola
Samuli Örnströmer, cello
Lisa Larsson, sopran
Malmö Live Konserthus | Malmö, Sweden
more Information
"TRAUMREISE" – WORLD PREMIERE !!
With her concept "Traumreise" Lisa Larsson blows life into forgotten songs by her compatriot Franz Berwald (1796 – 1868) in a first ever orchestration by Rolf Martinsson (born 1956). The project is part of the Tonhalle Orchester Zürich's 150 year celebration and in the same program Lisa Larsson also sings the soprano-solo, "Das himmlische Leben", in Mahler's 4th Symp.
FRANZ BERWALD/ROLF MARTINSSON "Traumreise" (concept Lisa Larsson)
GUSTAV MAHLER Symfonie No. 4
Tonhalle Orchester Zürich
Dirigent: Lahav Shani
Tonhalle Maag - November 28 + 29 - Zürich
More Information
Interview
Concert Solidari
On October 29th 2018 Lisa Larsson sings the soprano part in Gabriel Faure's "Reqiuem" in a Benefit Concert for the victims of the recent flooding catastrophe on Mallroca. The concert takes place in the Cathedral of Palma together with Orquestra Simfonica Illes Balears and the Coral Universitat de les Illes Balears und the baton of Pablo Mielgo.
Mallorca Cultura 18
On October 2nd 2018 Lisa Larsson performs at the Chamber Music Festival "Mallroca Cultura 18". Together with Nina Heidenreich on Violin and Pablo Mielgo on Piano she presents works by Mozart ("L'amero, saro costante" aus "Il re pastore"), Schubert ("Der Hirt auf dem Felsen"), Saint Saens, Debussy, Hahn, Poulenc, Chaminade and De Falla.
more information
A Tribute to Democracy
On September 25th 2018 Lisa Larsson has the honour of presenting a "pre-taste" of her concept "Traumreise", based on music by Franz Berwald in orchestration by Rolf Martinsson, this together with the Royal Stockholm Philharmonic Orchestra under Andreas Hanson at the festive inauguration of the new Swedish government at Stockholms Konserthus.
more information
Rolf Martinsson and Gustav Mahler in Stockholm
In May Lisa Larsson returns to the Royal Stockholm Philharmonic Orchestra. Her conductor is the internationally renowned Spanish conductor Gustavo Gimeno. ›Ich denke Dein ...‹ by Rolf Martinsson was the result of a close collaboration between the composer and Lisa Larsson. The piece consists of poems by Goethe, Eichendorff and Rilke set to music, with the common theme of love. The world premiere took place in 2015 in Zurich. For the 4th movement of his 4th Symphony Mahler used the ›Wunderhorn‹ poem ›Das himmlische Leben‹ in which Heaven's bucolic pleasures - musical and, above all, gastronomic - are described and catalogued with verve, enthusiasm and precision.
ROLF MARTINSSON ›Ich denke Dein...‹
GUSTAV MAHLER Sinfonie Nr. 4, soprano solo
Royal Stockholm Philharmonic Orchestra | Gustavo Gimeno
Konserthuset | Stockholm, Sweden
more information
Mendelssohn and Schubert in The Hague
Mendelssohn's Concert Aria ›Infelice‹ and Schubert Lieder in orchestrations by Liszt, Britten and Reger were the highlights of Lisa Larsson's schedule in March. The Residentie Orkest The Hague and its Principal Conductor Jan Willem de Vriend were her partners in two performances in The Hague's Zuiderstrandtheater:
FELIX MENDELSSOHN ›Infelice‹
FRANZ SCHUBERT/FRANZ LISZT ›So lasst mich scheinen‹
FRANZ SCHUBERT/BENJAMIN BRITTEN ›Die Forelle‹
FRANZ SCHUBERT/MAX REGER ›Gretchen am Spinnrad‹
Residentie Orkest The Hague | Jan Willem de Vriend
March 23 and 25, 2018, The Hague
more information
Lisa larsson in Norway and Spain
In February Lisa Larsson continued her series of Mahler, Berg and Martinsson performances: ›Sieben frühe Lieder‹ by Alban Berg and songs from ›Des Knaben Wunderhorn‹ by Gustav Mahler were on the programme of her Norway appearance with the Kristiansand Symphony Orchestra and its chief conductor Giordano Bellincampi. ›Ich denke Dein…‹, written and dedicated to her by Swedish composer Rolf Martinsson, she performed with the Orquestra Simfònica de les Illes Balears in Palma de Mallorca, Spain, under its chief conductor Pablo Mielgo.
ALBAN BERG ›Sieben frühe Lieder‹
GUSTAV MAHLER Songs from ›Des Knaben Wunderhorn‹
Kristiansand Symphony Orchestra | Giordano Bellincampi
Kilden Konserthus | Kristiansand, Norway
more information
ROLF MARTINSSON ›Ich denke Dein...‹
Orquestra Simfònica de les Illes Balears | Pablo Mielgo
Auditorio de Palma | Palma de Mallorca, Spain
more information
Concertgebouw Amsterdam + Konzerthaus Vienna
In December Lisa Larsson sang in two of Europe's most significant concert halls: Amsterdam's Concertgebouw and Vienna's Konzerthaus. Her impressive vocal and stylistic versatility allows her to embrace baroque oratorio repertoire as well as compositions written especially for her by her compatriot Rolf Martinsson:
GEORG PHILIPP TELEMANN ›Der Tag des Gerichts‹
Orchestra of the 18th Century | Andrea Marcon
December 9, Concertgebouw | Amsterdam, The Netherlands
more information
ROLF MARTINSSON ›Garden of Devotion‹
Vienna Chamber Orchestra | Stefan Vladar
December 17, Konzerthaus Vienna | Vienna
more information
Debuts in Australia and New zealand
In November Lisa Larsson travelled down under for her
first ever appearances in Australia and New Zealand:
NEW ZEALAND DEBUT on November 16
ALBAN BERG ›Seven Early Songs‹
GUSTAV MAHLER Symphony No. 4, soprano solo
Auckland Philharmonia Orchestra | Giordano Bellincampi
Town Hall | Auckland, New Zealand
more information
AUSTRALIA DEBUTS on November 23 and 25
ROLF MARTINSSON ›Ich denke Dein...‹
Melbourne Symphony Orchestra | Stanislav Kochanovsky
Hamer Hall | Melbourne, Australia
more information
Lisa Larsson started the new season in Sweden
Lisa Larsson started her 17/18 season with performances of Rolf Martinsson's ›Garden of Devotion‹ on September 21 and 22 in Sweden. She also embarked on her new chamber music project with an appearance in Malmö's new concert hall Malmö Live. Accompanied by clarinetist Carl-Johan Stjernström and pianist Alain Jacquon she sang works by Franz Schubert, Louis Spohr, Wolfgang Amadeus Mozart and Rolf Martinsson. All of Lisa's appearances this season are online. Please click on SCHEDULE.
Lisa Larsson and Rolf Martinsson:
A UNIQUE COLLABORATION
LINK TO CLIP ›A UNIQUE COLLABORATION‹ ON YOUTUBE
The succesful collaboration with Swedish soprano Lisa Larsson now includes more than 100 Swedish and international performances, tours, co-commissions, Radio and TV broadcastings as well as CD recordings in collaborations with conductors such as John Storgårds, Gustavo Gimeno, Stefan Solyom, Antonello Manacorda, Marc Albrecht; orchestras such as Tonhalle-Orchester Zürich, Philharmonia Orchestra, Helsinki PO, Netherlands PO, Gothenburg SO, Royal Stockholm PO, Melbourne SO, La Verdi, Scottish, Stuttgart, Swedish and Netherlands chamber orchestras, in venues like Concertgebouw, Amsterdam, Royal Festival Hall, London and Hamer Hall, Melbourne. Martinsson has written five vocal pieces for Larsson. Click the titles to see the YouTube clips:
›Ich denke Dein...‹ (Netherlands Philharmonic Orchestra, Marc Albrecht)
LINK TO CLIP ON YOUTUBE
›Ich denke Dein...‹ (Helsinki Philharmonic Orchestra, John Storgårds)
LINK TO CLIP ON YOUTUBE
›Into Eternity‹
LINK TO CLIP ON YOUTUBE
›Orchestral Songs on Poems by Emily Dickinson‹
LINK TO CLIP ON YOUTUBE
›Orchestral Songs on Poems by Emily Dickinson‹
Version für Sopran und Klavier
LINK TO CLIP ON YOUTUBE
›Garden of Devotion‹
LINK TO CLIP ON YOUTUBE
›To the Shadow of Reality‹
LINK TO CLIP ON YOUTUBE