NEW ON CD
Lisa Larsson sings Mahler
Soprano solo from Symphony No. 4
Three Songs from:
"Des Knaben Wunderhorn"
ALSO AVAILABLE
Lisa Larsson sings Berlioz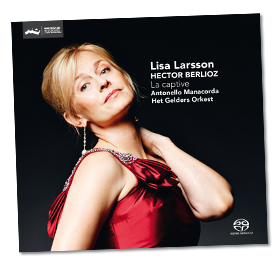 La captive, Herminie
La mort de Cléopâtre
ALSO AVAILABLE
Lisa Larsson sings Haydn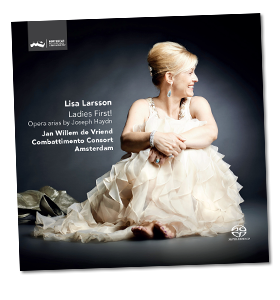 Ladies First!
Scena di Berenice, Arianna a Naxos
Arias from: L'anima del filosofo,
L'isola disabitata, L'infedeltà delusa,
La Metilde ritrovata

Lisa Larsson sings Alban berg with the württembergische philharmonie
Following a series of successful concerts with the Orchestra Sinfonica di Milano Giuseppe Verdi under Leonard Slatkin Lisa Larsson continues her season appearing with the Württembergische Philharmonie in Reutlingen, Germany. Conducted by Ola Rudner she sings Alban Bergs ›Ten Early Songs‹. This song cycle consists of the more familiar ›Seven Early Songs‹ in their version for orchestra by Berg himself and three additional early Alban Berg songs orchestrated by Chris Gordon which are performed for the first time in Germany.
→ MORE INFORMATION
Successful debut with the Norrlands Operans
Symphony Orchestra
On January 19 Lisa gave her debut with the NorrlandsOperans Symphony Orchestra in Sweden. Conducted by Rumon Gamba she sang Rolf Martinsson's ›Orchestral Songs‹. Bengt Hultman from the Västerbottens-Kuriren was thrilled: "Intensity and total brilliance" was the title of his review:
→
LINK TO COMPLETE REVIEW IN SWEDISH AND ENGLISH
Big success for Lisa Larsson at the Concertgebouw
On November 26 and 27 Lisa Larsson gave two very successful concerts at Amsterdam's Concertgebouw. Accompanied by the Netherlands Chamber Orchestra and its leader Gordan Nikolić she sang Felix Mendelssohn's concert aria ›Infelice‹ op. 94 as well as the Dutch premiere of Rolf Martinsson's song cycle ›Garden of Devotion‹. The concert was broadcast as live stream and can now be seen on youtube:
YOUTUBE-LINK: LISA LARSSON SINGS ›INFELICE‹
YOUTUBE-LINK: LISA LARSSON SINGS ›GARDEN OF DEVOTION‹
Star of the evening: Lisa Larsson
Critical acclaim für Lisa Larsson's appearance with the Västerås Sinfonietta on November 17, 2016. Her interpretation of Rolf Martinsson's ›Garden of Devotion‹ is heavily applauded:
→
LINK TO REVIEW IN ENGLISH
Lisa Larsson und Rolf Martinsson:
A UNIQUE COLLABORATION
LINK TO CLIP ›A UNIQUE COLLABORATION‹ ON YOUTUBE
The succesful collaboration with Swedish soprano Lisa Larsson now includes more than 100 Swedish and international performances, tours, co-commissions, Radio and TV broadcastings as well as CD recordings in collaborations with conductors such as John Storgårds, Gustavo Gimeno, Stefan Solyom, Antonello Manacorda, Marc Albrecht; orchestras such as Tonhalle-Orchester Zürich, Philharmonia Orchestra, Helsinki PO, Netherlands PO, Gothenburg SO, Royal Stockholm PO, Melbourne SO, La Verdi, Scottish, Stuttgart, Swedish and Netherlands chamber orchestras, in venues like Concertgebouw, Amsterdam, Royal Festival Hall, London and Hamer Hall, Melbourne. Martinsson has written five vocal pieces for Larsson. Click the titles to see the YouTube clips:
›Ich denke Dein...‹
LINK TO CLIP ON YOUTUBE
›Into Eternity‹
LINK TO CLIP ON YOUTUBE
›Orchestral Songs on Poems by Emily Dickinson‹
LINK TO CLIP ON YOUTUBE
›Orchestral Songs on Poems by Emily Dickinson‹
Version für Sopran und Klavier
LINK TO CLIP ON YOUTUBE
›Garden of Devotion‹
LINK TO CLIP ON YOUTUBE
›To the Shadow of Reality‹
LINK TO CLIP ON YOUTUBE
During the 2016/2017 season Lisa Larsson continues to sing several of these works in international performances. She will also be heard in the evangelist part of Martinsson's ›St. Luke's Passion‹ in Malmö and Växjö, Sweden.
All of Lisa's performances in the 2016/2017 season can now be seen under SCHEDULE on this website.